During this summer we have launched many updates on SeoPoz's platform. Let's see what's new.
First of all, we rebuilt all our dashboards and reports:
Now all dashboards represent all your SEO traffic by 3 dates range: Last 7 days, last 28 days, last 3 months.
Also, we have added the Change columns to the dashboard, so you can easily view how you perform compared to the previous period.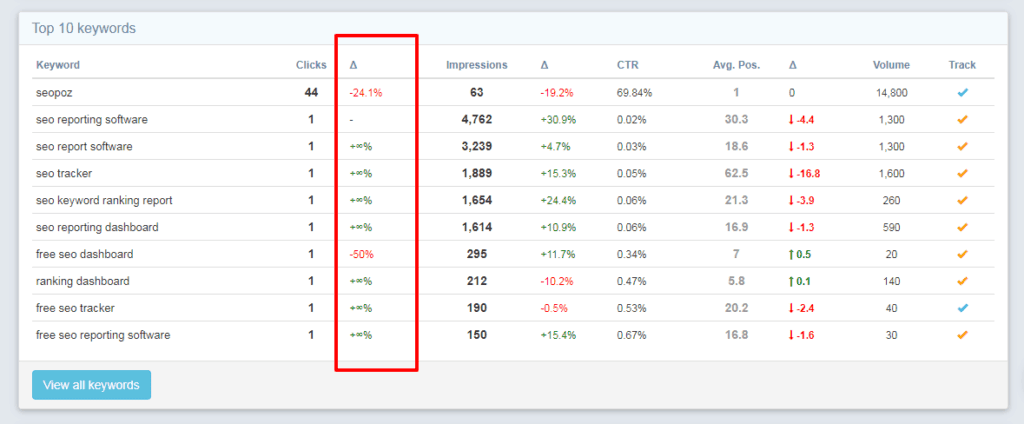 You can see that now all data are grouped in a more convenient way. It displays top regions, keywords, and pages of your project. You can view top keywords by region and track your favorite keywords directly from the Top 10 Keywords dashboard.
Also, we have launched Pages Traffic Report, where you can easily find all your ranked pages ordered by traffic.
And lastly, we introduced Keywords Watchlist where you can easily track your favorite keywords. This report is updated every day, so you can see how your keyword rankings are changed in a day, week, or month.
Now you can add any keyword in your watchlist by clicking on Add keywords button. This allows you to track even those keywords that are not yet appearing on the Google search engine.
Let's try these new reports and dashboards in your working environment and write us your feedback.
Also, stay tuned, we are working on many new updates now and great features will come soon.
If you have any question please ask it in a comments section below or write a question in Customer Support.