SEO Dashboard & SEO Metrics
Track the most important SEO KPIs in one place. Your customized SEO dashboard considerably helps you stay focused on what matters most by displaying essential data at one quick glance.
Designed to speed up the monitoring process, our SEO dashboard is the perfect solution for a quick but still comprehensive overview of the website's SEO traffic, keyword rankings, backlinks, authority, and other SEO metrics.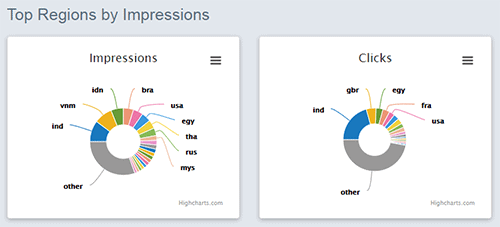 Keyword Rankings Report
SeoPoz provides daily, weekly and monthly keyword rank tracking reports with all the history of how your rankings are changed in the past. SeoPoz tracks keyword rankings in more than 200 Google regions and makes it easy to manage. You can view your data by a single region or combined.
Save time by setting up automated email notifications and receive daily, weekly or monthly keyword ranking reports in your email inbox.
Data from Google Analytics and Search Console
Google Analytics and Google Search Console provide tons of valuable information about how Google interacts with your website. There's plenty of information here that you can quickly fold into a report templates or dashboards.
Visual data forces you to notice what you never expected to see. SeoPoz lets you simultaneously visualize multiple SEO metrics using a wide range of widgets.
Free
Free SEO Dashboards
Keywords Traffic Report (500 Keywords)
Pages Traffic Report (100 Pages)
Keyword Search Volume (Weekly)
Weekly SEO Traffic Report
Daily Keyword Ranking Changes
PDF/Excel Data Export
-
Start now
Most popular
Standard
Free SEO Dashboards
Keywords Traffic Report (Unlimited)
Pages Traffic Report (Unlimited)
Keyword Search Volume (Daily)
Weekly SEO Traffic Report
Daily Keyword Ranking Changes
PDF/Excel Data Export
White Label Reports
Reporting Emails
Start now
Premium
Free SEO Dashboards
Keywords Traffic Report (Unlimited)
Pages Traffic Report (Unlimited)
Keyword Search Volume (Daily)
Weekly SEO Traffic Report
Daily Keyword Ranking Changes
PDF/Excel Data Export
White Label Reports
Reporting Emails
Start now