We want to introduce You with our new Affiliate Program and invite You to become our affiliate marketer.
Our affiliate marketers are our partners. We aim to grow together with them, while maintaining a mutually beneficial relationship. We help our marketers, while providing large payouts that are fair. That reflects how seriously we take this partnership.
Affiliate marketers partner with product and service distributors. They promote them through other channels (Email, Social media, PPC), while earning money for the sales they bring in. Pretty simple, right? It's a great way of earning passive income and growing your audience. Helping them find products they would love.
How to become SeoPoz's affiliate marketer?
It's very easy. First of all, let's create your SeoPoz account if you don't have it. Once you're logged in, go to the Affiliate Account section (top right menu Affiliate Program) and click the link Create Affiliate Account.
After that, your affiliate link will be created. Use this link to promote our SEO tool!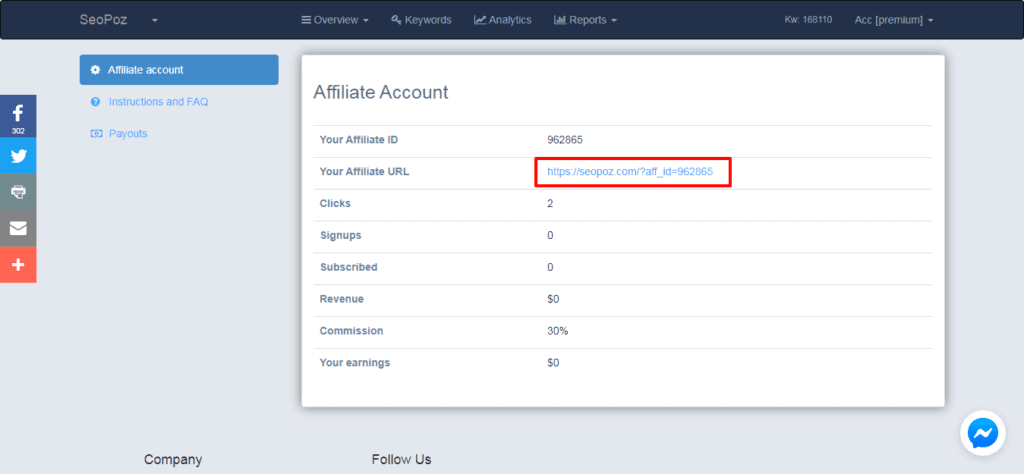 What commissions can I get?
You can get 30% commissions on every payment made through your referral link. For example, if a user who has followed your referral link or banner purchased a $100 plan, you will receive $30 commissions. Next, the user becomes your referral, and all his subsequent purchases or any billing plan prolongations will bring you 30% of the price paid.
What is the minimum amount of revenue required to receive a payout?
Affiliates are eligible for payout once their earnings balance reaches $50. If you do not make over $50 in a given month, the amount made will continue rolling over to the next month until the minimum threshold is met.
If you want to learn more about our Affiliate Program, please log in and go to the Instructions and FAQ section.

Also, if you have any questions please ask it in a comments section below or write a question in Customer Support.
Back to Knowledge Base