Here I define the most important SEO metrics and show you how to watch them in SeoPoz platform.
1. Organic website traffic (clicks from search engine)
The main purpose of doing SEO is to gain more visitors to your website. All visitors who comes from search engines is called Organic traffic. This metric is essential in term of all your SEO activity.
In SeoPoz platform you can see your website's organic traffic in Clicks column.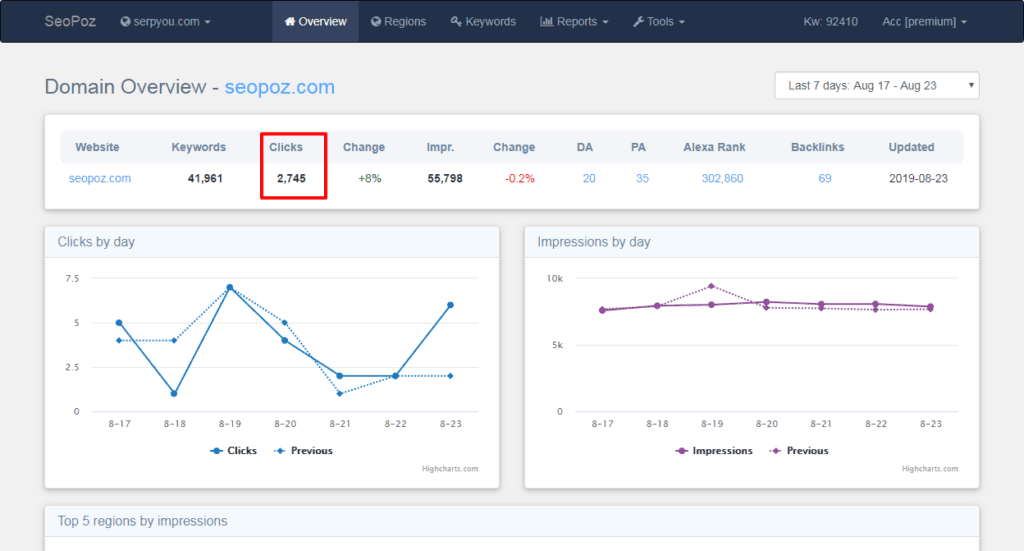 It's not all your organic traffic, because we only count traffic from Google search engine and only traffic which leads from query search. Visitors from other search engines you can check in Google Analytics report.
While other metrics might show a trend, this metric gives you quantifiable proof that your efforts are actually bringing in more visitors.
2. Impressions & CTR
Impressions is a number of times your website has been listed in Google results page. In SeoPoz platform you can see your impressions in Impr. column.
CTR – Click Through Rate is another very important SEO metric. CTR showing how often people who see your website in Google results end up by clicking it. CTR calculated by this formula:

CTR indicates how well your content appeals to your audience.
3. Backlinks & Referring domains
One of the key SEO metrics determined by backlinks and referring domains. Backlinks are links from outside domains that point to pages on your domain; essentially linking back from their domain to yours. To a larger degree, your backlink profile is made up of backlinks from external sites (also known as referring domains) that contribute to the overall strength, relevance and diversity of your domain's backlink profile.
There is a strong correlation between your website rankings and number of Backlinks to your website.
4. Authority Metrics
The sheer number of backlinks isn't enough. You want to measure the quality of the backlinks you're building, as well as the increasing authority of your own site.
One of the most known authority metrics are Domain Authority (DA) & Page Authority (PA). This is the term coined by Moz to gauge the "authority" of a domain name on a scale of 0-100 (based on links, brand mentions, etc.). Another well known metric is Alexa Rank.
Alexa Rank is a measure of website popularity. It ranks millions of websites in order of popularity, with an Alexa Rank of 1 being the most popular. Alexa Rank reveals how a website is doing relative to all other sites, which makes it a great KPI for benchmarking and competitive analysis. Alexa Rank is calculated using a proprietary methodology that combines a site's estimated traffic and visitor engagement over the past three months.
5. Keyword Rankings
Keyword Position in Google search results. You can find very detailed report about keyword rankings in Keywords section.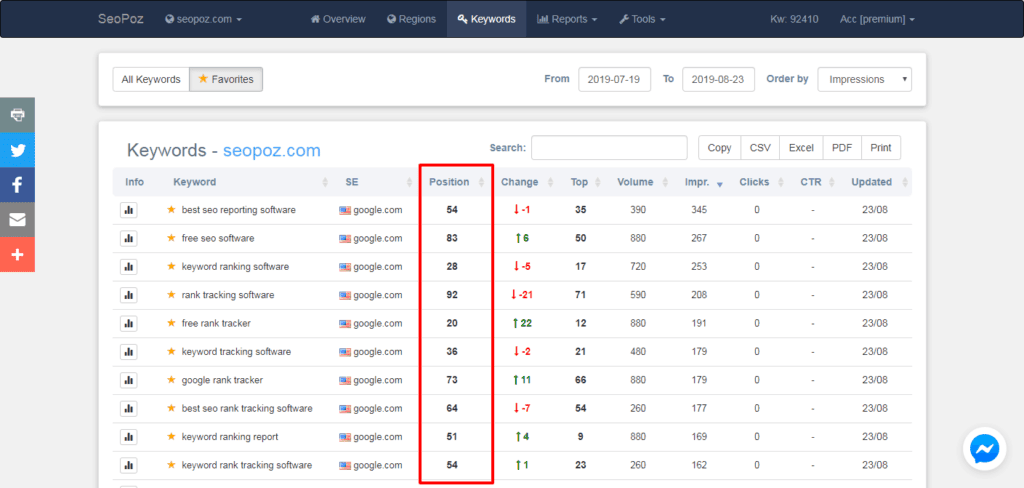 Keyword Search Volume – is the number of searches that are expected for a keyword within a month.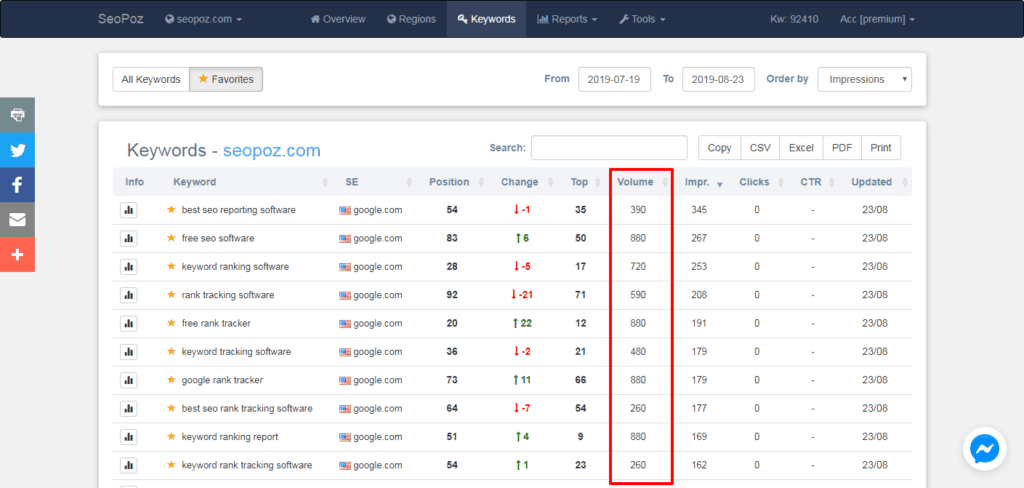 6. Engagement Metrics
Bounce rate is the number of visitors who left your site without clicking any link (or hitting the 'back' button on the browser). This is expressed as a percentage.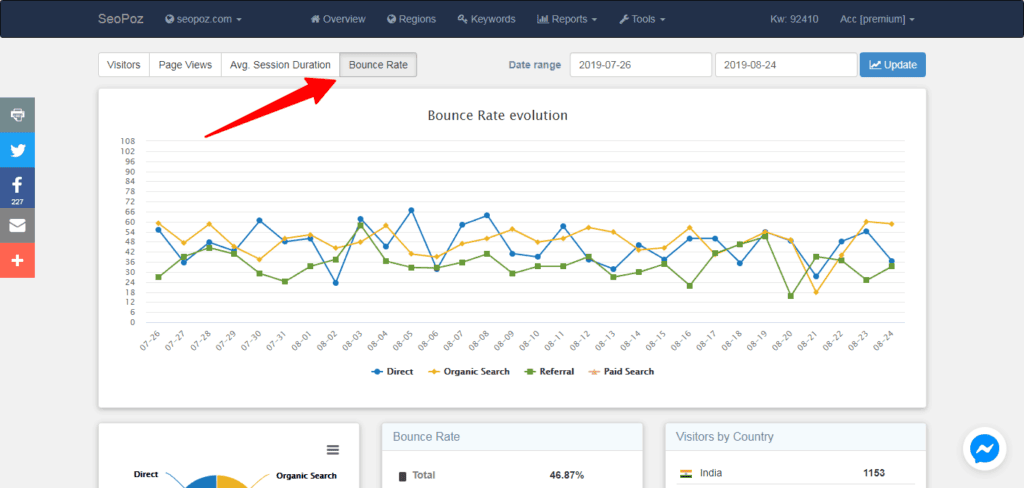 Session duration is the amount of time visitors spend on your site on average.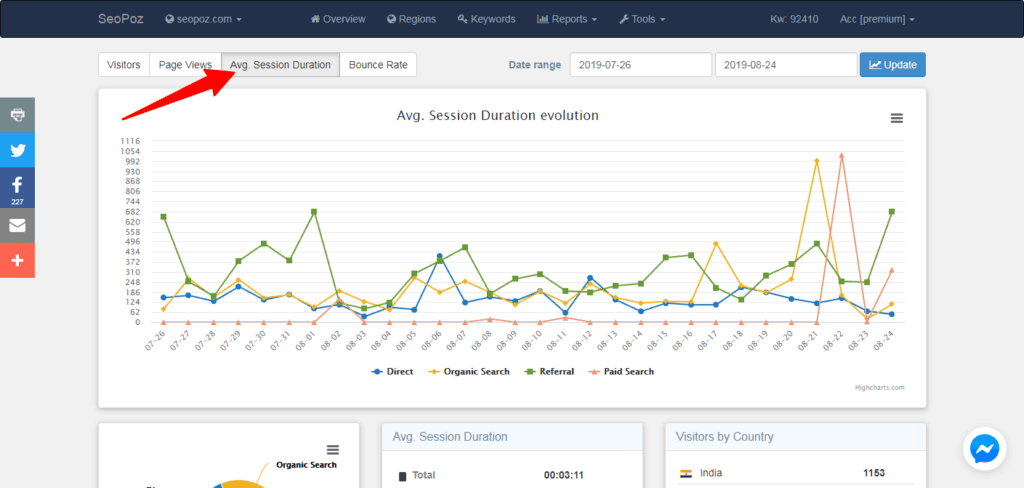 Page views is the number of pages your users visit on average before leaving the site.